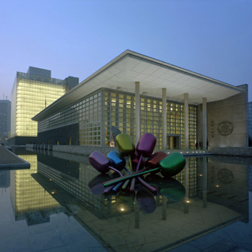 Resume for David Inlow, S.E.
U.S. Embassy
Beijing, China
Given the complex forces connecting China and the United States, the new U.S. Embassy in Beijing, designed by Skidmore, Owings & Merrill's San Francisco office, had to negotiate difficult political, cultural, and architectural terrain. The design needed to take into account strict security concerns while accommodating the offices, spaces for visa processing, conferences, receptions, and community outreach that define an embassy program. At the same time, it had to refer to both American and Chinese precedents, providing a secure, yet welcoming image of the United States.
By Aleksandr Bierig
Architectural Record
David Inlow S.E. gratefully acknowledges the engineer of record and fellow staff for their collaborative contributions to this project.
| | |
| --- | --- |
| Architect of Record: | Skidmore Owings & Merrill LLP |
| Engineer of Record: | Skidmore Owings & Merrill LLP |
| Year of Completion: | 2008 |
| Project Area: | 500 000 sq. ft. |
| Building Height: | 45 m |
| Number of Stories: | 8 |