San Francisco Soft-story Facts
Technically referred to as "soft-story, weak-story and/or open-front wood-framed" buildings, soft-story wood-frame buildings in San Francisco typically have large openings on the ground floor, and many walls in the upper floors. In San Francisco, these are typically apartments and condominiums that have parking under buildings, or open commercial space on the first floor, making them "soft-story" or "weak-story" buildings likely to lean or even fall over in earthquakes. Per a US Geological Survey Study performed in 1992, seven soft-story residential buildings and another 65 were moderately to severely damaged in San Francisco's Marina District during the Loma Prieta Earthquake in 1989.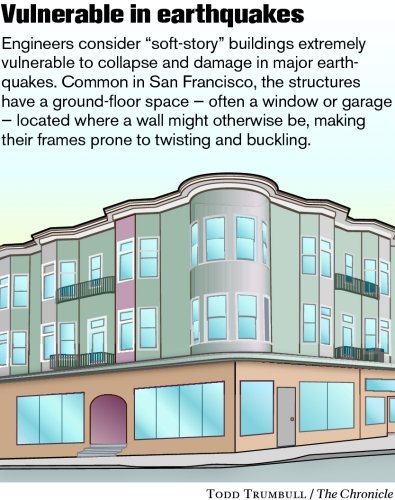 San Francisco Mandantory Soft-story Retrofit Ordinance
On the anniversary of the 1906 San Francisco Earthquake, Mayor Ed Lee signed into law the Mandatory Soft Story Retrofit Ordinance. This legislation requires the evaluation and retrofit of "multi-unit soft-story buildings" in San Francisco defined as: Wood-frame structures, containing five or more residential units, having two or more stories over a "soft" or "weak" story, and permitted for construction prior to January 1, 1978.
San Francisco Soft-story Summary
Many of San Francisco's wood-frame buildings without a retrofit would be seriously damaged in an earthquake. A significant number could collapse. The scope of this damage could cause many casualties and injuries, as well as set back San Francisco's post earthquake recovery, and could even irrevocably change the character and affordability of San Francisco. Many multi-story wood frame buildings in San Francisco were built before modern code changes adopted in 1978 (California Health and Safety Code Section 19161). These buildings have a structural weakness in the ground floor called a "soft story" or "weak story". A soft-story retrofit should be undertaken to reduce the risks associated with owning a soft-story building.